You may have noticed that I have been missing in action, and haven't been blogging as much as normally lately. I have been busy traveling, first visited DisneyWorld with Hanes Comfort Crew and then flew directly from Orlando to Arkansas, where I spoke at the Mind of Moms Summit yesterday. Normally I try to stay on top of things blogging wise, but my daughter was sick in DisneyWorld, and I tried to spend some family time as well, and just didn't have time to blog during our trip. Glad to be home again, even though the trip was amazing!!
My home is my castle, but unfortunately my castle ain't this one pictured on the top. I also ain't Cinderella, nor I have a a wicked stepmom telling me to clean. My life is busy and while I try so hard to do it all, I admit – cleaning isn't one of those things on the top of my list, and my house is a mess most of the time.
I was asked to be part of Pledge Multi Surface How I Clean Now campaign, and share my cleaning angst with the world… I admit, it wasn't easy to say yes. Especially because part of the campaign involves writing about my cleaning routine (what cleaning routine?) and they also wanted to visit my home and videotape it. I will get professional cleaning intervention from The Style Network's Trish Suhr, and I'm hoping her tips will help me to keep our castle in royal order.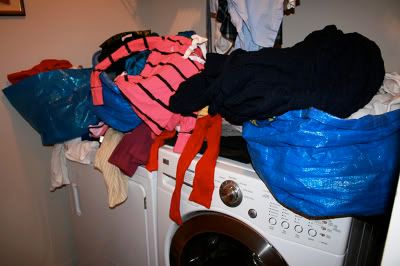 My laundry room..
After a slight hesitation of showing the world how I do NOT clean, I joined in with four other bloggers, most of them I have known for a while. My fellow cleaning bloggers are: Jim of Busy Dad Blog, Susan of 5 Minutes For Mom, Casey of Moosh Indy and Erin, the Blue-Eyed Bride. I have to say that I feel much much better after reading the first posts on the How I Clean Now-site – especially after reading Susan's "In need of a transformation" – seems like we have same type of issues, and I feel that together we can do it! Well – with the expert helped from Trish!
Please join us in this journey at HowICleanNow.com and enter to win your own cleaning intervention and a visit by Trish Surh in your home.