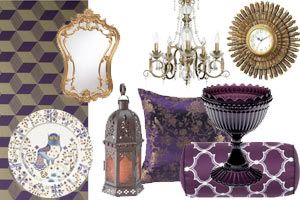 See my post at LifetimeMoms.com about one of the Fall '09 decorating trends; boho chic purple & gold.
Here are my fav products that I featured in the picture:
Wallpaper by fern living
The golden framed mirror from Target ($119.99).
Sunburst clock ($119).
Golden chandelier ($399).
Iittala's Maribowl ($45.50).
Iittala Taika Dinner Plate ($40).
The bolster pillow from Target ($12.99).