FIRE PIT & RELAXING SPOT ON THE YARD
The relaxing spot in the yard is perfect for suntanning during days, relaxing after a day at work or enjoying the fire after dinner.
The products used to make this relaxing spot for afternoon sweet tea and for romantic evenings by the fire:
Jaclyn Smith Today Fire Pit $79.99
Two Strathmore Folding Sling Chaise Lounges, $59.99/each.
Jaclyn Smith Today Crafton Single Welt Chaise Cushion for each lounge chair, $49.99/each
Country Living Modern Countryside 18in X 18in Ruffled Decorative Pillows, $14.99/each
Jaclyn Smith Today Red Zanzibar Breakfast Decorative Pillows, $14.99/each
Jaclyn Smith Today 22" Black Loop Plant Stand as a table $19.99
Placemat $4.99
Tiki torches, $8.99/each
Jaclyn Smith Today Small Metal Lantern $12.99 (hanging from the tree)
Jaclyn Smith Today Filled Hurricane with Handle $19.99
Additional products in the picture: flower pot & glasses homeowner's own.
Additional products bought and not seen in this picture: Jaclyn Smith Today Red Zanzibar bedding $59.99), the sheets as curtains covering the under the patio area as explained in a separate post and in the picture below.
TOTAL PRICE: $486 without tax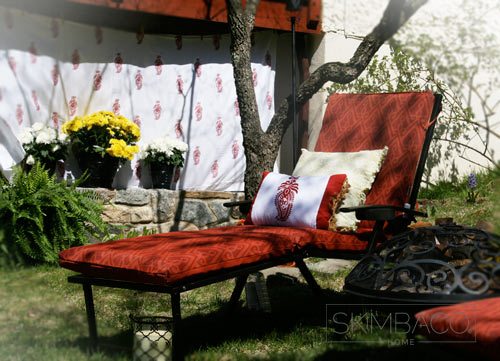 Disclosure: I was compensated for my time to participate in this campaign. All of my opinions are my own.