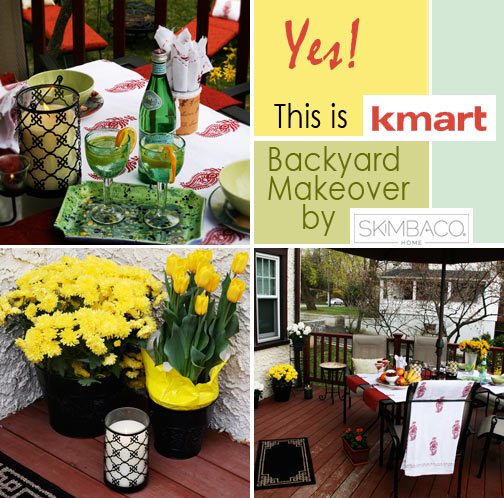 YES – the retailer where I shopped for the products for the backyard makeover IS Kmart. I used total of $1,500 for the entire makeover, including all of the furniture, fabrics, lanterns, fire pit, even all of the flowers. The flowers were from Kmart as well, but there we some items that I made myself, and we used some items like glassware and dishes from my friends kitchen to pull it all together. While Kmart would have had plenty of dishes and glassware that I could have used, but I wanted to show that you can also create a brand new look when you mix old things and new things.
My mission was to create a Relaxing Oasis backyard makeover in the Moroccan Nights theme for my friends, but we didn't want to throw away everything they owned just to get new things to replace the old ones. You can easily have an entire backyard makeover on a budget when you take an inventory of the items you already own, think of a theme and look that you are going for, and then piece by piece start putting it together. Kmart actually has this pretty cool online tool that helps you to pick the furniture you want. I used the patio furniture tool when I was pre-shopping at home – but ended up buying a different table set in the store because they didn't have that in the stock. Kmart has no hassle online ordering via MyGofer.com, you can order even the outdoor living products online and have in-store pick up for them. They told me at the store that it normally takes 24-48 hours to get your products to the store, and you can pick up the products from store within hours if the store already has them on stock.
My entire shopping list and directions how I created this Moroccan themed backyard makeover coming tomorrow, including instructions how I created the napkins from sheets!
Disclosure: I was compensated for my time to participate in this campaign. All of my opinions are my own.