Skimbaco® Lifestyle online magazine is owned by international lifestyle expert and social media strategist Katja Presnal.

Click HERE to find our MEDIA KIT and how you can work with us.
Get inspired to live smart, stylish and sustainably happy lifestyle, Skimbaco Lifestyle!
Skimbaco online magazine offers inspiration and ideas to enjoy life and to live a Globally inspired lifestyle that is stylish, luxurious with a budget, and focused on living life to the fullest.
We cover home, travel, fashion, family and food, and our focus is living a lifestyle where less is more, and you enjoy small things while make plans for the big things to happen. Make your dreams come true, but don't forget to live in the moment. We believe everyone deserves luxury experiences.
We want to inspire you to travel the world, although we are not your typical travel site. We want to bring the global lifestyles home with us and offer inspiration for your home and kitchen from our travels.
CONTACT with questions and feedback!
KATJA PRESNAL, Lifestyle Expert, Owner & Founder of Skimbaco®
Read Katja Presnal's professional bio and some press she have received.
I am a photo-taking-jet-setter.
I am a cinnamon-bun-baking-housewife.
I am a marketing-loving-business-woman.
I am a "let's-jump-some-more-on-the-couch-kids"-mother.
I love to spread sunshine, share great ideas and products, and inspire you to live life to the fullest. I truly believe you can make lemonade out of lemons and that sometimes the worst that happens can be the best that ever happened. My passions are fashion, home deco, traveling, skiing and good food and I love sharing my finds with others. I created a lifestyle that let's me do my most important job, being a mom, while building my own company and enjoying the things I like, for example traveling. I am a proof that a girl can have it all, and I would love to inspire you to make your dreams come true too!
Katja
WHAT'S SKIMBACO?
Skimbaco means living life to the fullest; enjoy the moment, live well and spread sunshine to people around you. Skimbaco Lifestyle is living a smart, stylish and sustainably happy lifestyle in your way. YOU define what living life to the fullest and Skimbaco means to you, we give you ideas how to find it.
Skimba is a Finnish slang word for skiing and CO is for Colorado – Skimbaco doesn't mean skiing in Colorado, but living life to the fullest, enjoying every minute of it and doing what you love. When you are in Colorado – ski, when you are in New York – go shopping or to museums; whatever you do, enjoy the moment, live life to the fullest and enjoy the moment. Think of skimbaco as modern carpe diem.
"Skiing in Colorado" is just one fun thing what our family does, and Skimbaco was born when we lived in Durango, Colorado.
We live life to the fullest and I hope to inspire you to do the same.
Katja Presnal
SKIMBACO TEAM
Skimbaco started as a blog only written by Katja Presnal, but today our growing team has writers from all around the world. Each writer on Skimbaco Lifestyle has their own weekly or bi-weekly column about a specific niche. Read more about the Skimbaco Team and our writers here. Our writers consists of team of TV journalists, marketing and PR professionals, and travel and fashion industry professionals and we currently have writers located in the USA and Europe making it easy to us to send a writer to cover various global events and stay in the top of global trends.
SKIMBACO LIFESTYLE
SUBSCRIBE SKIMBACO LIFESTYLE – once a week email on Mondays and get the latest posts.
GET INSPIRED
– Inspiration to live life to the fullest and enjoy everyday life.
– Get inspired to Live a little – and make bucket list big dreams come true.
– Interviews of interesting people. Sustainable and green lifestyle ideas.
– Peek into Katja's life living around the world, from skiing in Colorado to shopping in New York and currently living in Sweden. Katja's three kids were all born in different countries, and you never know where she heads the next.
SKIMBACO TRAVEL
Skimbaco Travel – once a week email with our latest travel posts.
– Travel stories and travel photos.
– Travel deals and news.


– Travel reviews and tips how to do luxury travel for less.
– Travel destinations in the US and Europe.
– Adventure travel.
– Traveling with children.
SKIMBACO FASHION
Subscribe to Skimbaco Fashion – once a week email with latest fashion posts.
– Latest trends and women's fashion.
– The scoop on upcoming events and trends.
– Product finds and shopping tips how to live luxuriously with a budget. (aka what to splurge on, what not)
– Outfit ideas.
– Men's fashion
– Beauty & hair trends and cosmetics.
– Practical inspiration how to wear the latest trends.
SKIMBACO HOME
Subscribe to Skimbaco Home – once a week email with latest home category posts.
– Scandinavian inspired modern home decor.
– Modern design and home decorating trends.
– Entertaining and parties at home.
– Design
– Gifts and celebrations.
SKIMBACO FOOD
Skimbaco Food – once a week email with the latest food posts.


– Food ideas and recipes.
– Restaurant features.
– Kitchen gadgets and products.
– Global Kitchen, recipes from travels.
– Cocktails & Dreams cocktail recipe that introduces a travel destination as well.
Contact with PR pitches, event invitations, partnership proposals and guest writing and advertising opportunities: katja (dot) presnal (at) skimbaco (dot) com and read more about our traffic stats, audience and how you can work with us.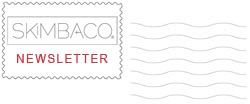 Legal Stuff:
User Agreement, Disclosure Policy, Privacy Policy