Mother's Day 2008 is May 11th and I have some great ideas for a perfect gift!
Skimbaco offers so many nice things for Moms from personalized jewelry to clothing and from stationery to handbags.
Even Katie Holmes received gifts from our store, a family friend of Tom Cruise and Katie Holmes shopped at our store recently for gifts for Cruise/Holmes family – now you can shop for Katie's style!
Pamper yourself or a Mother you know this Mother's Day and shop for unique gifts at Skimbaco.com. And my gift for you: take 15% off your order with a coupon code SKI15.
SPORTY MAMA
Blume Girl offers personalized clothing and accessories. Fun tees, caps, and even undies for a Sporty Mama. You can personalize your items with up to 10 characters. Is a sexy thong with a text "Hot Mama" your thing, or is a sporty tee with "Soccer Mom" in your wish list?
Gifted for Katie Holmes: Black Baseball cap
Blume Girl for Women, 22-55$
ARTSY MAMA

DeAnna Cochran boutique collection offers unique necklaces, earrings and bracelets for a woman who is looking for a distinctive look. DeAnna's designs have been seen on TV, and national magazines. DeAnna Cochran's jewelry makes a perfect Mother's Day gift; part of the proceeds is donated for children and mothers in need.
Her Boutique Collection offers many pieces you can customize with your birthstones. The most noticed pieces in the media are the earthy leaf-series and the most gifted item is the Eternity necklace with birthstones (also available in gold) – perfect for a mom.
Gifted for Katie Holmes: Jackson's Leaf II
DeAnna Cochran's Boutique Collection, 50-425$.
NEW MAMA
Baby Star Diaper Pouches are a must have for a modern mom. Diapers and wipes are easily found from the purse or diaper bag and these designs are so stylish that New Mom will want to keep this pouch around even after the baby grows out of diapers!
Gifted for Angela Kingsley of TV show "Office"
at Pinks & Blues Virtual Baby Shower.
Baby Star Diaper Pouches in variety of styles 16$.
STYLISH MAMA
Posh Peacock stationery and paper goods is a perfect gift for a mom who already has everything. Stylish Mom sends even her letters and notes in style. Posh Peacock offers variety of personalized stationery and note cards with or without personalization.
Katie Holmes and Tom Cruise have the Dot Monogrammed ones
Posh Peacock Stationery and Note Cards starting from 1.65$/card
HAPPY MAMA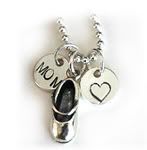 Alli's Originals Jewelry is perfect for a Mama who celebrates the special people in her life. The fully customizable jewelry can show off the love, the saying and the special meaning for her. Every piece comes with several options to make it just like her. Alli's Originals Mommy necklaces are also an easy way to remember any mom.
Alli's Originals Jewelry 44-50$.
EARTHY MAMA
All Marimekko products are made from high-quality 100% cotton and have been given the Öko-Tex Standard 100 environmental certificate, ensuring that no noxious chemicals were used during its manufacturing. Vibrant colors and funky prints will appeal from Earthy Mamas to Fashion Mamas. By the way, even Manolo Blahnik borrowed Marimekko's famous Unikko print for fabulous pumps this spring. With Unikko / poppy print, Mama just can't go wrong.
Marimekko accessories 13-98$.
These and many more gift ideas for everyone in the family at Skimbaco.com.