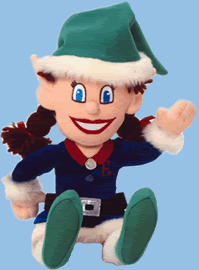 Elfing Around is a fun Elf and an activity in one. The Christmas Elf plush toy is a 12 day adventure/ activity pack for your little one. Before the Elf arrives, the pack includes a letter from the elf, announcing it's arrival.
Each day parents can organize a surprise for child to find when she/he wakes up from the Elf. This is like an advent calendar, but of 12 days, and of adventures and activities like writing a letter to Santa. Each morning your child will receive a Post Card from the Elf considering of the day's activity. You can read more about the experience at the Elfing Around website, and you can be assured that this is made easy for you – the Elf comes with Parent Adventure Guide so you can follow it easily. The book also contains empty post cards, if you want to think of your own activity of the day.
The Elfing Around is not just a toy – it is a Christmas memory your child will remember for years to come.
Available at Elfing Around for $29.99/each.
PS. Elfing Around also offers a lot of free activities you can do with your child.