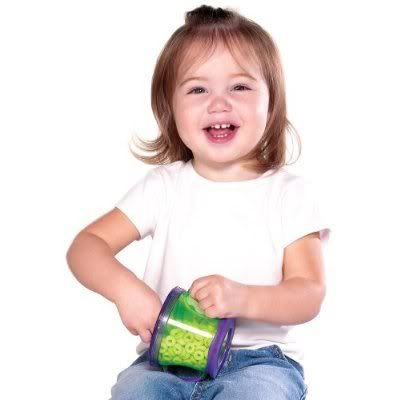 My kids are already older, and I can't but wish I had known about the Munchkin Snack Catcher ($4.97) when they were toddlers! See the picture: Cheerios in the container, little hand in and the Cheerios are not all over the floor – I know, magic!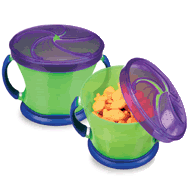 Yup, Snack Catcher really means Snack Catcher. The cup has soft flaps on the top making it easy for a kid to get the little snacks out but the flaps keep the snacks in. And added bonus – non grip handles and bottom to keep it from sliding in the stroller tray. I like the price too – on sale for only $4.97.
Munchkin Mighty Grip Cup ($4.97) is another great snack time pal. I like the shape, how it narrows in the middle making it easier for those little hands to get a good grip on the cup. The soft silicone straw is safe in more ways than one – doesn't hurt mouth if accidentally bumped into and it has a special valve keeping the drink in. Munckin makes a lot of other great products too for babies, toddlers and kids.