New Year's Eve Popcorn $24.99
If you are looking for a special snack for your New Year's Eve party, check out The Popcorn Factory's special New Year's Selections.
We received some Popcorn Factory popcorn for Christmas, and oh boy, I am addicted to this sweet, crunchy and absolutely amazing popcorn. We had our family movie night last night and we just couldn't stop eating the delicious flavors of The Popcorn Factory popcorn. The tin we received had three different types of popcorn, all-natural butter, robust cheese and secret-recipe caramel corn, and even the butter popcorn was the best butter popcorn I've ever had.
To be honest I've never before thought of popcorn as a gourmet food or a gourmet food gift, but The Popcorn Factory changed my mind entirely, and I think sending some popcorn as a gift is an excellent idea, and I felt so special to receive it. The popcorn was packed will in a pretty tin (I will save it and re-use it, it's so pretty!), and came perfectly crunchy, just like it's supposed to.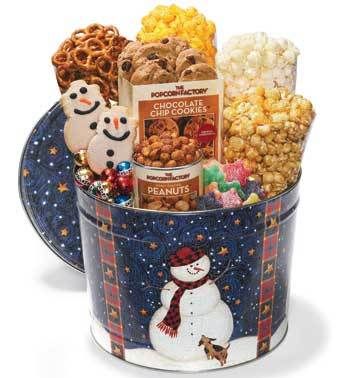 Or get the deal and get some on sale like the Snowman Tin was $29.99, now only $11.99.
It may be too early to think of Super Bowl (February 1st, 2009), but when you do mark it to your calendar, make sure to mark Popcorn Factory as you snack provider as well. The Sport Tin selection is large and make sure to order your teams popcorn tin on time for Super Bowl and other sports parties you will be hosting.