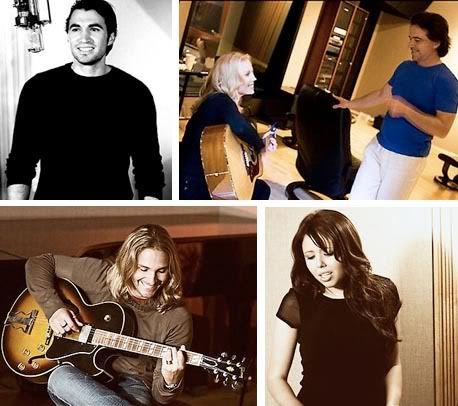 Nathan Pacheco, Leslie Mills, Yanni, Ender Thomas, Chloe
Yanni Voices isn't your mother's Yanni.
The musical phenomenon Yanni teamed up with four talented vocalists, Nathan Pacheco, Leslie Mills, Ender Thomas and Chloe and gave them his music and let them create beautiful lyrics for his beloved music. Now this group, Yanni Voices, can be seen on tour and on PBS. The Yanni Voices tour officially starts on April 4th and continues touring around the nation and Canada until July.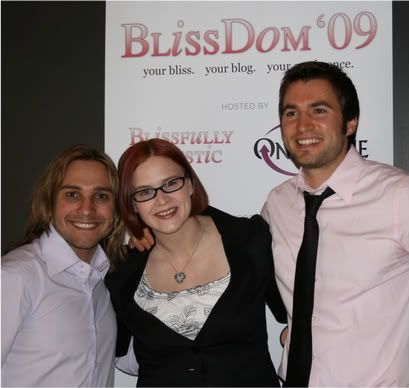 Ender Thomas, me and Nathan Pacheco
I had two very unique opportunities earlier this month. I met two of the Yanni Voices singers in Nashville, at the BlissDom conference. The bloggers of the conference were able to ask questions from Ender Thomas and Nathan Pacheco and two lucky women even got serenaded happy birthday by them!
I also was invited to preview Yanni Voices' upcoming tour in New York City last week. The short premier was amazing! The city of New York and its lights on the evening sky as a backdrop, Yanni and his grand piano on the stage – and the vocalists and their amazing voices. The music and the voices of these talented singers gave me goosebumps, I was an instant fan! I can't wait that Yanni and these four brilliant vocalists will come again to New York for their official concert in early May. (Who wants to come with me?)
The good news is that you can enjoy Yanni Voices at your own home – as soon as starting on March 2nd. Yanni Voices Special on PBS starts airing next week. The Yanni Voices Live from the Forum in Acapulco gives you the opportunity to enjoy the show even before the tour starts. Check your local listings to see the show times.
If you watch the Yanni Voices PBS Special, will you come back here and let me know what you thought of it..? I hope you like it as much as I know I will.
Also: see the tour dates.
Photos: Yanni.com
My sincere thanks to One2One Network for the opportunity to see Yanni Voices Premiere.