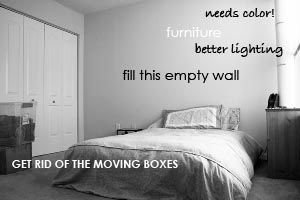 Nobody seeing our current bedroom would ever believe that I love interior design, and love scouting new decorating ideas from magazines like Better Homes & Gardens and online, and even share decorating ideas in my blog.
Our bedroom is as blah as blah can be.
Rest of the apartment isn't that decorated either.
Don't take me wrong – we have owned beautiful houses that I have decorated, designed and fully renovated; we haven't always lived in this decorating funk. But after living in three different countries and seven states in the past ten years, the ever changing addresses in temporary apartments have left me with this "why bother, life might take us somewhere else soon anyway" – mentality of not decorating the apartment we moved in last fall. And frankly, we haven't had it in our budget either.
But making your home beautiful doesn't have to be expensive and take a lot of time. I am excited to show you how I will turn this blah bedroom to sophisticated in only a matter of days and with a budget of only $500 dollars, using products from Better Homes & Gardens' new collection sold exclusively at Walmarts. To see what my fellow bloggers, Sheena of Mommy Daddy Blog and Colleen of Classy Mommy are thinking about doing for their living rooms and kitchens, check out their inspirations as well.
My step one was to make myself a big cup of coffee and indulge me for browsing the latest issues of the Better Homes & Gardens magazine and their website for inspiration.

Photos: Copyright© Better Homes & Gardens and Wal-Mart Stores, Inc.
My plan is to turn our bedroom into sophisticated, relaxing and fresh with a splash of color. I'm thinking adding some green as an accent color and bringing in some flowers too, after all, it's spring and time to bloom – outdoors and indoors! Some of the items in my shopping list are curtains, new bedding and a bedside table or even a bookshelf. And better lighting is a must. Maybe even a chair to sit on…
Can't wait to share what I come up with and also see Sheena's and Colleen's room makeovers. Now that it's officially spring – thank you! – you're probably looking around your house dreaming up a project or two. Your imagination may be healthier than your budget but little moves can have a huge impact. Tell us what kind of a mini-makeover you're imagining for your kitchen, bedroom, living room or bath. Inspire us! I would love to hear your low cost decorating ideas. Please join us in our low budget decorating journey, and keep an eye for a fun giveaway coming up!
This post is also published at BHG.com.