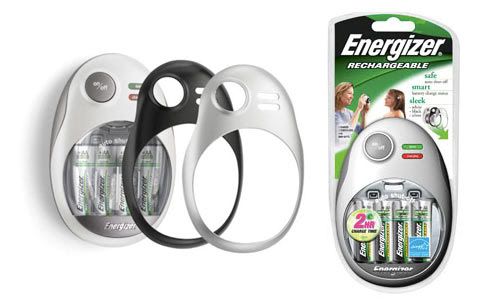 I remember when I was a kid, my dad was so excited about the product launch of rechargeable AA batteries that he bought the charger and rechargeable batteries for my mom for Christmas. While that might not have been the most romantic gift to my mom… it was something that all I learned to use since I was a kid.
We all use batteries for something, whether it's the remote, the GPS, the kids' toys or the digital camera – and probably for most of us it's all of the above. You can recharge the rechargeable batteries for 100 times – think about it – it's 100 times less batteries to dispose! This is a huge help to our environment and not to even mention to your wallet.
You can get the Energizer charger and a pack of rechargeable batteries (pictured above) for less than twenty bucks and the extra rechargeable batteries cost around 9 dollars a packet of four, they really are an investment that will pay back after a few recharges.
If you already don't own a battery charger, why not make that investment this month in honor of the Earth Day? It's a simple way to trash less, and save money doing it too. Plus – you never have to worry that you run out of batteries again – you will just have to wait until they have charged again, and you are good to go! The plus of the Energizer pictured above – it even looks stylish and you can match it with your decor.
A friend of mine, Colleen of Classy Mommy is a brand advocate for Energizers this year, and she just posted a fun and educational video how to safely dispose of batteries – in case you have been wondering how to dispose the old batteries safely.