Photo: Paul Wicheloe for Coastal Living
I've always loved decorating with one of my favorite nature's elements – the ocean and everything involving coastal living. I still have a pair of vintage rowing oars in my dining room corner, and in one of our houses I even used oars as curtain rods. There isn't an easier way to get some summer in your home than adding seashells in a vase or using a real conch as a center piece in your dining table or in your bookshelf.
I still wonder why the house where I had Ralph Lauren's wallpaper with sailboat blueprints took almost a year to sell. I don't understand why everyone just wouldn't love some seaside living in their living room…
If wallpaper with sailboat blue prints is too much for you, there are easy ways to get the coastal look in your home. Coastal Living has always been one of my favorite magazines for seaside inspiration, and for dreaming of ocean side living.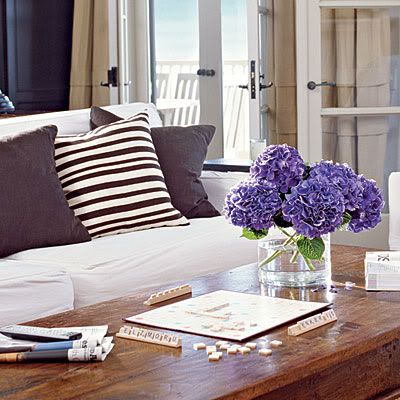 Photo: Paul Wicheloe for Coastal Living
WIN COASTAL LIVING MAGAZINE SUBSCRIPTION FOR A YEAR
To kick off my new interior design & home blog I wanted to give one year subscription of Coastal Living for one of my readers. If you like Coastal Living, and their style, I have a feeling you'll like it here at Skimbaco Home too, and I wanted to welcome you to my blog with this fun giveaway.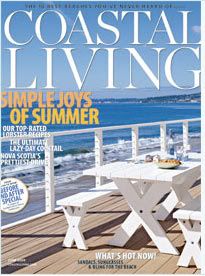 ENTER THE GIVEAWAY – ONE WAY – ONE ENTRY
1. Subscribe to Skimbaco Home feed and leave a comment you did.
2. Tell me what kind of interior design questions you have – what would you like me to cover here!
3. Tweet about the giveaway with #skimbacohome and the link.
ENDS June 15, midnight EST 2009.