Last week I featured a few great solutions for storing toys, but most of the products I featured were for younger kids. This week I wanted to feature a storage solution also for older kids, for tweens and teens.
Most of kids storage something under their beds, but why not do it a little more organized way than just throwing dirty socks there?
Here are some great twin beds with trundles, both modern and more traditional looks. Some of these options work for either storage or adding another mattress for sleepover guests. Think the bed's second life when purchasing one. Several of these will work also in the dorm or in the guest room.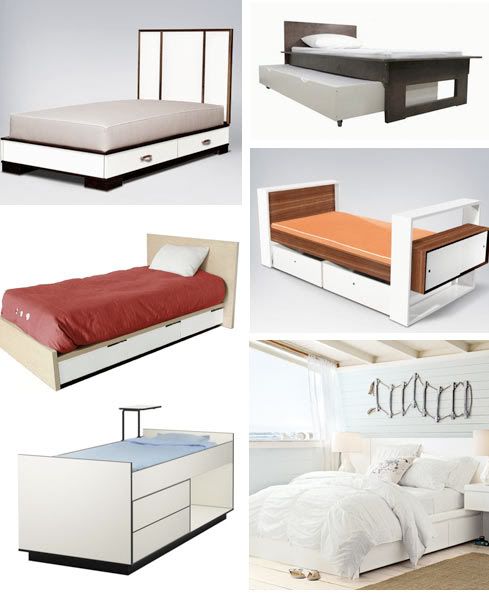 1. Morgan Twin/Full Size Youth Bed by Duc Duc ($1,994) comes in three different wood finishes. 2. Argington Ayres Twin Bed ($630) is great bed to grow – you can purchase rails for it for little ones and then add the trundle later if you wish. 3. The Blu Dot Modu-licious Twin Bed ($1,299) has three separate drawers under making it easier to organize things underneath the bed. The bed comes in two colors and four different drawer color options. 4. There are several options to make the ducduc Austin trundle bed ($1,345) to fit your storage needs. 5. Mörrum bed ($249) from IKEA is an inexpensive bed with shelving and drawers under. 6. West Elm trundle bed ($1,199) comes in two colors and it has six storage drawers under making it one of the top choices for easy storage.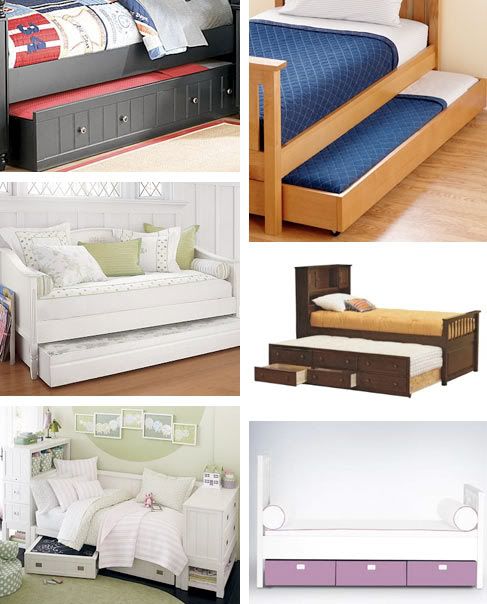 1. The Ethan Trundle ($149) fits under most beds sold at JCPenney, and I bet you could even fit it under the bed your kid already has. 2. Walden trundle ($349) is another option – it comes in different wood finishes and fits many different beds. 3. Madeline daybed with trundle ($1,099) is a great choice for your princess, and will also work great in a guest room. 4.
Captain's Bed with 3-Drawer Trundle ($999) from Target has plenty of storage space, under and in the headboard shelving
is an inexpensive choice. 5. Riley Bed from Pottery Barn comes with several different options and in white or espresso. 6. Gorgeous Campaign Youth Bed by Duc Duc ($2,094) comes in 8 different finishes to fit any style.