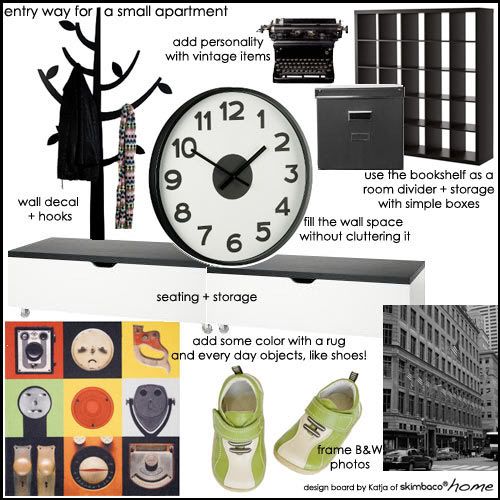 I am still on the planning stage with our new apartment. We did get that far that we purchased a few new things, including ordering some new furniture from IKEA. Some of the furniture arrived damaged, so now we are waiting a swap for new ones… Such is life.
One thing that we are totally missing in our apartment is an entry way. I love foyers with high ceilings and entry ways with lots of light. Now – we open up the front door and only what we see is staircase going upstairs to our apartment, no entry way, no space for anything cheery to say hello (well, maybe I'll add a fun wall decal or something). I have decided to take a little space of our living room and create our own entry way and a place to sit down and put your shoes on, or where kids can find their mittens and hats when the autumn weather comes along.
I'm dividing our living room with the black bookshelf (from IKEA), and leaving a narrow nook for our entry way. The bookshelf gives plenty of storage for accessories and even shoes. I like the simple black storage boxes to hide mittens and hats inside.
I like to keep the color scheme simple to the black and white and maybe it's your (or your kid's) shoes or hat that brings the color to the space. I do like the rug from Flor though to bring some color, but I like the idea of bringing the color on the floor, without over powering the small space.
Like mentioned before, I love the Ferm Living wall decal of a tree especially when making it also do the work for you by adding a few hooks to get a cool place to hang your scarf or maybe an umbrella. The ODDA storage boxes from IKEA have double duty – seats and added storage.
Even if the space is small, it doesn't mean that you need to decorate it with small objects. In fact, I would like to use the space well and have a grand wall clock, that would not just tell the time, but also be the element that pulls together the small, yet organized entry way.