I love my work and my family. My life is pretty busy with those two and unfortunately wouldn't leave much time for girlfriends unless I had mastered "stealing" time for girlfriends. I have learned to "steal" some girlfriend time, whenever possible – even if it isn't the fancy party, reservation to the finest restaurant or a visit to your favorite spa each time.
Don't get me wrong I love hosting parties and setting up the table with the best of the china and I do own silverware made of silver. Spa weekend with girlfriends sounds amazing too, but let's be honest here – I don't mind if my true friends see me in less fabulous settings – most important thing is hanging out together!
Who cares if instead of sitting in a spa turns into sitting in your front porch or the nicely folded clothe napkins turn into kitchen paper towels and the snacks are served straight from the box instead of fancy platter… All what matters sometimes is to be able to share those girlfriend moments.
Here are some tips how you can steal some girlfriend time without having to make big plans, set up reservations or host big parties.
Work and Girlfriend Time
Don't let it affect your work, but plan some girlfriend time around your work. Maybe you can share an office lunch, some quick take-out in the break room perhaps? Coffee or drinks after work – or morning workout in the gym.
One of my favorites is seeing girlfriends in the blogging conferences, and sharing the hotel room is the best for sneaking in some girlfriend time. And when I say that girlfriend time doesn't have to be glamorous, I mean it. With Real Girlfriends, you can be yourself, eat the food with your fingers and let her see what a messy roommate you are (oh, and realizing that she is messy too – priceless for girlfriend bonding).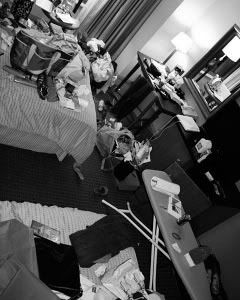 (true story – and my messy roomie was Erika of Chic Shopper Chick)
Combine Family and Girlfriend Time
Surely there is a way you can combine family & girlfriend time. Play dates for kids could also be called gossip time for moms, right? How many times you've had the best girlfriend time on the side of a playground or in a kids' event together with your friend and her kids? Or how about driving to the movie theatre with your family, and having your husband to take the kids to see the latest from Disney while you sneak to see the chick flick with your girlfriend?
Even if you have 15-30 uninterrupted minutes with your friend, it gives you an energy boost like no other. How do you steal girlfriend time?
Full disclosure: This post was sponsored by Viva Towels. For fun, fork-free recipes – including videos – and snappy entertaining ideas, get over to the VIVA® Diva Café.