I am at Salt Lake City and spoke in a panel at Outdoor Retailer with two brilliant people. Robert Rivenburgh of MARS Advertising, my colleague at my job at Collective Bias, and Linda Jager, one of my fellow Snow Mamas, and a PR expert, especially in the outdoor industry. Our panel was about Social Shopper Marketing and I loved seeing how more people kept coming in during our presentation, the topic was interesting!
The Outdoor Retailer trade show was awesome, I was like a kid in a candy store with all the new outdoor gear. You can see the show through my eyes with above Whrrl story above. No commentary on it (yet) though – was too busy checking out stuff and didn't write anything..
The fabulous day turned into even more amazing evening with Linda. She lives in Park City so she knows how to do Sundance like a local.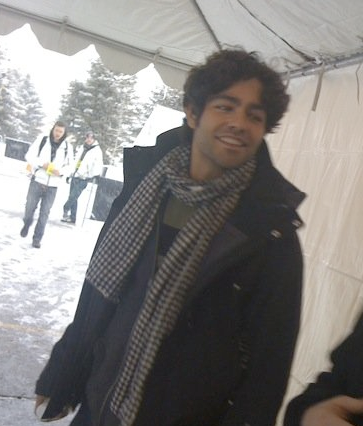 We went to see Adrien Grenier's documentary Teenage Paparazzo, and I already saw Adrien on the way in.. And we watched the movie in the second row, Adrien and Paris Hilton sitting only a few rows behind us.. Seriously surreal. The coolest part of Sundance Film Festival is the film crew interviews after the movie. I am hoping to have time on my flight tomorrow back home to actually write a movie review, the Teenage Paparazzo was one of the best movies I've seen for a while.
After the movie, we ate at Good Karma, and I had the best Indian food I have ever eaten in my life. Or, to be correct, it was Indo-Persian food, and I even got to talk to the chef and his wife, who are both so nice. If you ever visit Park City, Good Karma is a must.
The snow storm was hitting Park City pretty good last night when I drove back to Salt Lake City to my hotel, and after I click "publish" on this post, I will take a shuttle right back to the mountains to do some powder skiing.
I only wish I had my family with me to share this awesomeness.
Full disclosure: I did the Outdoor Retailer Panel as an Collective Bias employee, and figured when in Salt Lake City, why not mix business with pleasure and visit Sundance and do some skiing.