I can't wait to see SLIM by Cynthia Rowley, a slimming lingerie collection coming out next fall. But what I'm really looking right now is slimming swimwear. With two trips to Florida and a cruise at Baltic Sea awaiting and summer cottage rental at Rockport, MA calling my name, I will be needing a swimsuit proper enough to travel with (and not just for the pool cross the street).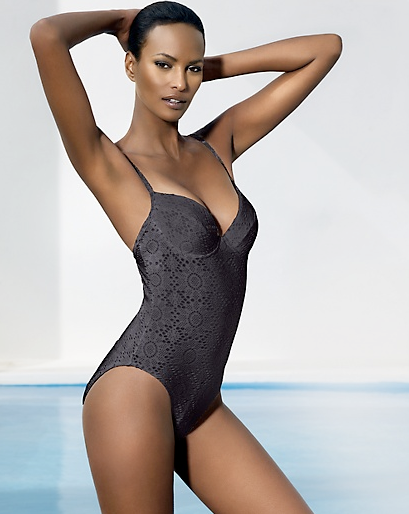 Spiegel has great selection of shape wear, including slimming swimsuits. Most of their styles are on sale right now, and their prices are not as high as most slimming swimwear. Shape fx® Sculpting & Slimming Crochet Maillot ($44) or the turquoise All-Over Control Halter Suit ($49) are a few of my favorites. I have never ordered from Spiegel before, but it is one of the best known catalogs in Europe, and I could give these swimsuits a try.

Land's End has a wide selection of styles, and they especially have great timeless classic styles, that you can get now and use for several years. Land's End is your safe choice, if trendy isn't your thing. Like the black All-over Control Grecian V-Neck Slender Swimsuit ($89.50) is a great timeless model. They also have a few with prints, like the All-over Control Uneven Squares Slender Tunic Swimsuit ($99.50).

SPANX launched their slimming swimwear last January (read more at Lifetime Moms). This Structured One Piece ($198) is my favorite by SPANX, it also comes in all black. Unfortunately most of the sizes are already sold out online, but SPANX has other nice styles as well.
Saks Fifth Avenue has several slimming swimsuit, but my favorite is the Gottex collection, like this Gottex Cosmic Surplice Tank ($148)

Last but not least… MiracleSuit has several styles with bright colors and prints to break out your (or read: mine really) desire to get yet another black swimsuit to look slimmer. The MiracleSuit swimwear is available in several stores like Amazon, Zappos and Bare Necessities.