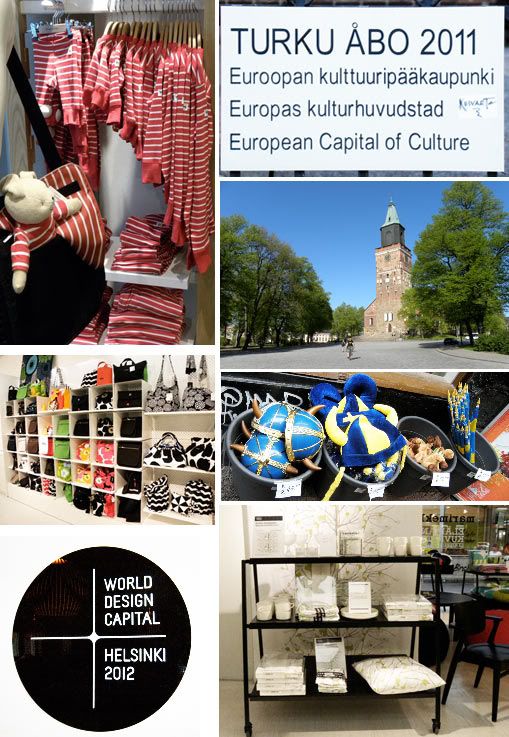 I was honored to be a keynote speaker at SoMeTime2010 conference in Helsinki, Finland, last week. The conference was organized by Finland's most prominent social media users and practicioners, and sponsored by Nokia. The trip allowed me to visit my family, including seeing new family members I had never met before, and enjoy a quick Turku-Helsinki-Stockholm tour, and will be sharing some of my favorite finds with you the upcoming weeks.
I enjoyed backyard BBQ with my parents.
Visited my favorite aunt.
Enjoyed some fried herring and Lonkero (it's like Mike's Lemonade, just better) with my sister on a river boat in Turku.
Almost got sunburned.
Walked around Stockholm's Gamla Stan (Old City) and shopped all day long with my mom.
Ate the best cinnamon buns and strawberry cake you can find.
Saw a small island full of nudists while passing by on a cruise boat.
Got to know new Finnish artisans.
Took at least 30 pictures of old doors in Finland and Sweden.
Flew with IcelandAir, didn't see ash in Reykjavik, but want to go horseback riding and whale watching in Iceland one day.
Spoke Finnish with a thick Turku dialect, just because I could, and oddly had missed it.
Realized I need to go back to Finland more often to see everyone.
When I arrived back to JFK in New York I had mixed feelings, because I felt I had come home.
I think a person can have two homes in her heart.
PS. Here is the map of Scandinavia if I am confusing with all the weird place names…
And just so you know how large Scandinavia is and how I travelled; it was 4 hour flight from Reykjavik to Helsinki, it's two hour drive from Helsinki to Turku, and it takes 18 hours by boat to go from Helsinki to Stockholm.