On my way to what I hope to be sunny California.. It has been rainy in New York, and I can't believe that it's only two weeks until our pool opens (my kids are counting days). The summer is sort of delayed weather-wise – but go and buy those summer shorts already now before they are all sold out by the time the sun shines all week long.
Yup, this summer's biggest trend is shorts, and the shorter the trendier. And even denim shorts are in. Cold weather, pale legs, or -gasp – not perfect legs..? No problem, now you can even wear leggings or tights with your shorts and look perfectly fine. Now, my only problem reminds that I can't find shorts that will take 10 lbs off how I look? My solution: shorts that hit right above my knees and skirts. Shorts are trendier, but short skirts are right there with the mini trend.

Jessica Alba in Marc Jacobs shorts.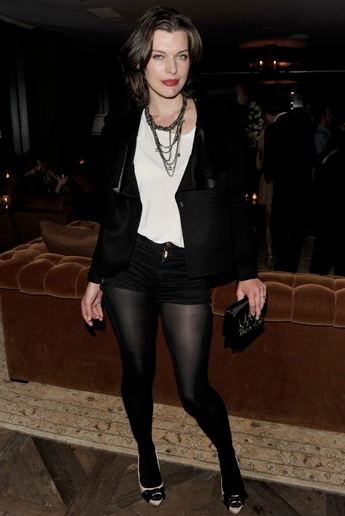 Milla Jovovich