Whether you live in a colder climate or not, it's likely that the fall and winter gives you the urge to hibernate. We don't mean you should dive under the covers on October 1st and refuse to emerge until the heat index nears ninety, but at-home entertaining is a great way to stay off the streets when the chill hits this season and even save a little money while you're at it.
When you have guests, it's understandable that you'll want to pull out all the stops and present a clean, cohesive home to your visitors. After you sweep, dust and scrub, get a little decorative with your table setting. Kelley Moore, a Seattle-based lifestyle expert and party planner suggests using a variety of textures when you set your dinner table, such as a combination of woven runners, metallic chargers or lacquer boxes as risers.
"The mix of different heights and textures will add visual interest and draw your guests in," said Moore. "Remember to keep the color palette the same or select one of the textures in a contrasting color for consistency."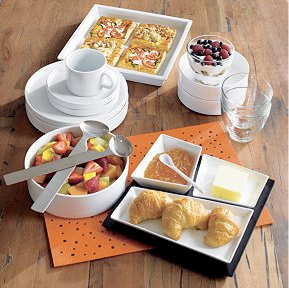 Photo Credit: CB2
Add a Punch of Color: if you have a typically neutral color scheme, don your table with a few punches of dramatic color to liven things up. "Don't be afraid to mix high and low cost pieces," said Moore. "One of my favorite things to do is mix my heirloom china with modern sleek pieces from stores like CB2 and Ikea." To add an orange pop to your table, consider the Dot Punch Placemat ($4.95) from textile and fashion designer Lora Manné.

Photo Credit: Pottery Barn
Fall for Pumpkins: It might be challenging to find canned pumpkin in your supermarkets this year but faux pumpkins and gourds are sold at many home-decorating stores and add seasonal elegance to your tables. Whether you have a buffet to adorn with signs of the season or you're looking for a festive pumpkin centerpiece, ditch the traditional orange kind that might fall victim to rot or mold before the season ends. Instead, fashion your table with a set of faux pumpkins that mimic stylish heirloom varieties. Decorative Pumpkins and Gourds, $75, PotteryBarn.com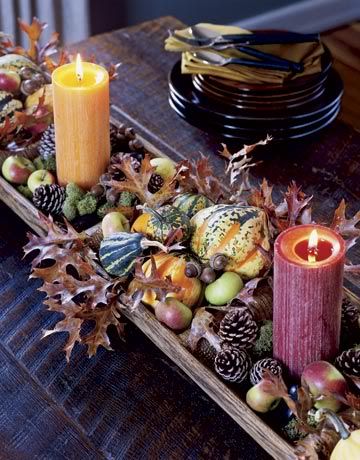 Photo Credit: Country Living
Creative with Candles: If you're having an intimate dinner party or want to achieve a softly lit look for your room, opt for a new take on candlelight. Fill an antique dough riser with tiny pinecones, acorns and gourds and set autumn-hued candles inside. If you can't get your hands on a dough riser, adapt this idea, inspired by CountryLiving.com, to any shallow box or tray you may currently have. Oak leaves, acorns, and moss can be collected during hikes and nature walks or at your local craft shop.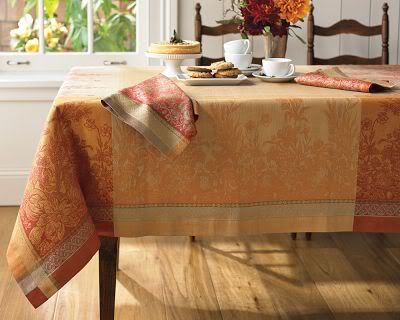 Photo Credit: Williams-Sonoma
Dress Your Table: Intricate patterns give linens a regal look and feel while its pattern of wheat stalks, pomegranates and fall leaves set a beautiful base for fall entertaining. Made from a blend of 52% cotton and 48% linen, the tablecloth lends itself to simple care (it's machine washable!) and has a fine sheen and flattering finish. Harvest Wheat Jacquard Tablecloth ($120) from Williams-Sonoma.com.
Written by Maris Callahan. Maris Callahan is the author of In Good Taste and as an avid self-taught home cook, is widely knowledgeable about all things culinary. She is especially passionate about helping new cooks learn how  to prepare healthy, delicious meals and snacks, even when life is busy.
She believes in Ghirardelli chocolate, farmer's markets and cooking from scratch when possible. When she is not in the kitchen working on her next recipe, Maris works as a marketing professional at an agency in Chicago and in her spare time, contributes to several websites including SheKnows.com and Diets in Review.