I love how Redbook magazine created their entire July theme for fostering friendships with your girlfriends and about hosting a girlfriend party at home. They also sponsored 1,000 Happy Hour parties this past weekend, and their readers got to host a party for their friends. Tune in on Tuesday on Twitter when Redbook is gathering women across the country to chat about girlfriends and parties!
What about you – how do you live life to the fullest with your girlfriends and what are some of your favorite things to do with your girlfriends?
I asked the same question from 25 of my girlfriends and here is what they said! I love all of the ideas, but one of my favorite quote comes from my girlfriend Naomi Shapiro of Superdumb Supervillain "Your best girlfriends make anything fun, from laundromats to bingo to spa trips." It is so true!! It's a good reminder that you can have fun with your girlfriend doing just about anything, you just have to do it, and like Vera Sweeney of Lady and the Blog says: "The best moments I've had with my girlfriends are when we have nothing planned and just have a relaxing afternoon. We remove the "mom" title, the "wife" title, the "worker" title – and just become who we were before everything took over."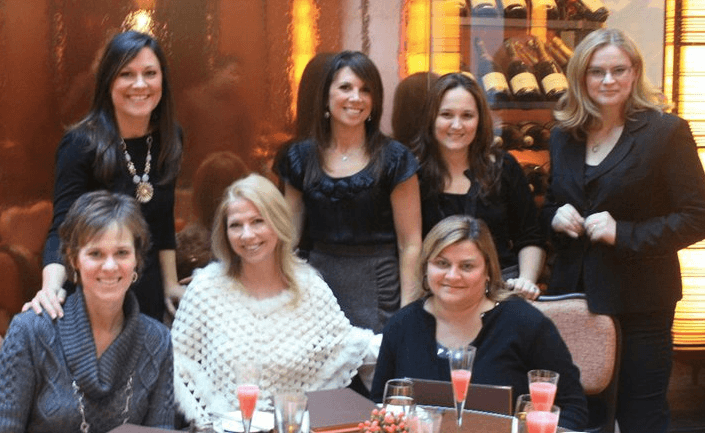 Find Your Girlfriend Tweet Tribe
Oh boy can I relate to Michelle Kay of Domestic Executive Online, she says: "My online girlfriends rock my world 24/7!! My day is filled with inspiring quotes, family life tips, suggestions for great products and just plain good conversation. Recently, @DabneyPorte and @MamaBritt started #SMGirlfriends stream on Twitter and that has allowed me to meet so many fabulous people and make amazing connections! I heart my social media girlfriends!!" Bring your friends and join us on the #REDBOOKhh Twitter party on Tuesday 6/21 to talk more how important friendships are and to experience how cool it is to find girlfriend tribes on Twitter.
Long Distance is NOT an Excuse Not to Have Fun with Girlfriends – Have a Skype Party!
Creative Lifestyle Blogger Rebecca E. Parsons of Cre8Tive Compass Magazine gets creative when it comes to spending time with her girlfriends who are all around the world: "We all live across the globe now and it is harder for us to get together in person. So we now have a Skype chat fest. Once a month we get dressed up, fix a beverage du jour (hostess sends the recipe), fire up Skype and chat, laugh and reconnect. We take turns being hostess. Nothing like sharing the love with my BFFs!"
Girls Only Weekend Trip
"We have girls weekend over the 4th of July at a family cottage. We spend 2-3 days grilling and eating a potluck style buffet, swimming and sitting for hours by the campfire. Everyone pitches in a little bit to keep it affordable for all. This will be our third annual girls weekend and it's the highlight of the year for us", says Sarah Jehnzen of Sarah'd Deals. Erin Lane from the tales from a marketing mama agrees: "A Girls Weekend is essential. Last year we went to a mountain house complete with wine, dessert and a HOT TUB."
Also Stacie Haight Connerty, The Divine Miss Mommy prefers traveling with her friends: "We have a girls trip at least once a year. We all meet somewhere just to re-connect, blow off some steam and have fun together. And if we can't get out of town we stay at a local hotel for a few nights." Lifestyle blogger Lisa Frame of A Daily Pinch says: "My girlfriends and I take a trip to the beach. We cook our meals, spend time in the sun, check out local attractions, drink wine and just cherish our time away, knowing it won't happen for another year." Lala Sams of The Deal Fanatic takes a road trip: "My best girlfriend and I left the family and took a Desert road trip. The best part was talking so much we didn't even realize the 4 hour trip went so fast."
Say YES More Often When Your Girlfriends Ask You Out!
Kelly Whalen of The Centsible Life encourages you to say yes more often: "I've learned to say yes more often. I get bogged down in how long my to do list is, and then I won't do anything with friends! So now I say yes. Yoga class? Yes. Night out for a local event? Yes. Drinks at a local dive? Yes!" And when it comes to WHAT to do, book and travel blogger Andrea Peskind Katz of Great Thoughts certainly knows where to say yes: "Lunch or wine with girlfriends is my favorite. Occasional dinners out. On birthdays, we do a spa day followed by sushi!"
Form a Book Club, Mom Club or a Knitting Club
Sometimes friendships evolve around the same interest; with people that you might not even think you had much anything else in common. Jen at Big Binder has a great example of it: "I have been in a book club for almost seven years. At the time it formed, we were all new moms and spent our days in the trenches together. Most of our 'real' friends worked while we stayed home with our babies. Over time, these newly formed friendships evolved into deep, real connections with a diverse variety of women that we probably never would have otherwise become friends with. Book club has evolved (or devolved!) into more of a social/wine group. There is still a book, somewhere, but it has become 'suggested reading'. Our kids are all in different schools now and we have moved on to another stage of life, but the early years of playgroups and long, long, difficult days has left us with friendships that we maintain by gathering together every six weeks to maybe, or maybe not, discuss a book."
Foster the Lifelong Friendships
Professional mom & food blogger Cat Davis of 3 Kids and Us says "My best friend (of 25 years) and I grew up together and went through life changes together. We grew apart, back together and now make time for each other with playdates for our kids. It gives us a chance to reconnect as friends and mothers. It gives us a chance to learn from each other and our different lifestyles and have a few moments of non-mommy conversation." Chele Chestnut from Bona Fide Life says she lives life to the fullest with her girlfriends by "Encouraging them, Hugs, unconditional love and Coffee! It comes back ten fold."
Bring Wine & Chocolate!
Tonya Staab of Create-Celebrate-Explore makes sure there is time for girlfriends, and has the best tip of them all – let there be wine and chocolate! She says: "Through thick or thin girlfriends are always there for you and it's important to find ways to celebrate those friendships. We have craft weekends, a knitting group, a monthly girls night out, we attend classes and events together and meet for a coffee regularly. And there is always wine and chocolate on hand in case a friend needs a little cheering up or a shoulder to lean on."
Toni Patton of Daily Dose of Toni says: "My girlfriends and I love to have in home cooking parties, or rather the eating part of the party. It's a great fun way to re-connect as well as get new recipes and share some of your favorites. Pair it with movie and dessert and you have a meal and movie night in with the girls."
Shopping & Laughing
Audrey McClelland of Mom Generations just gets it: "When I'm with my girlfriends, there's just ONE thing I want to do — LAUGH! I want to belly laugh and smile and just be a girl!! There's nothing I love more than heading to a dinner with my girlfriends or just finding an hour to sit on the phone and chat away! It's so important to me to always stay checked in and aware of what's going on in my girlfriends' lives. Also, there's always a shopping trip that I love to do!!"
"Getting out, going shopping and just being silly while doing it. Finding hats and jewelry that makes the other laugh and lunch afterward tops it off" recommends parenting blogger Nanette of A Mom Blog. Courtney of Detroit Mommies says: "I love to shop with friends, go out to a long dinner, lunch or breakfast with friends."
Make it work!
Julie Meyers Pron of Just Precious advices: "When all else fails, gathering for wine or a margarita on the back porch and letting the kids run makes for a great time for everyone."
Tina of Life Without Pink says: "Since life is crazy with the kids, we try and get together one night a week {with kids} and have a big dinner. We each bring a dish, let the kids play and us girls can actually {on most occasions} sit down and chat. I really look forward to this and it is so refreshing to have some girl time." If dinner isn't an option… try breakfast like Amy Hodges of A Million Boxes: "Realizing that with our busy lives it was getting harder and harder to even talk on the phone, one of my close friends and I made a weekly date for breakfast."
Photos: All the pictures are photos my girlfriends have tagged me on Facebook – with them of course :)