I have mixed feelings about this Halloween and motherhood and whether it's treats or just tricks.
This Halloween I decided to try to be a better mom, and actually try to plan our Halloween a little bit better, at least when it comes to the costumes. About a month of talking and going back and worth and negotiating what is an appropriate costume and what isn't we finally made it to the Beacon Halloween Parade today, and all three kids dressed in their costumes.
We spent a few days shopping for costumes in the usual mass market stores and the seasonal Halloween costume stores and the selection wasn't really inspiring so we decided early on to make our own costumes and be as resourceful as possible. Note: I learned that being crafty and doing DIY costumes doesn't necessarily come with a cheaper price tag, and in fact this year we would have saved a lot of money for just ordering the fancier costumes online.
After we decided to create our costumes we still spend numerous hours trying to find the best supplies for the outfits visiting Target, Walmart, Michael's and Marshalls, and all of them a few times. I had sort of forgotten that the DIY route is not just a route… it's like a long journey from initial idea to trying to find the supplies to creating the costume. And each of the girls Halloween costumes too easily 10-12 hours of total shopping and crafting time. What the heck I was thinking, right?
The thing is… I feel like making these costumes was probably the best thing I have done for my kids the entire year. Yes, I have taken them to DisneyWorld (twice), to ski trips, to beach in Cape Cod and many other great experiences and bought them many fancy things from Nooks to designer clothes. We've had many great moments this year, yet I think this Halloween costume journey was probably the best so far. Not just because girls got exactly what they wanted, but because they saw that it wasn't easy for me, but I did it anyways. It wasn't just buying something and it wasn't even buying something of high value and then asking for kids to appreciate it because it was expensive.
Girls saw that I took the time, even though I didn't have the time. Girls saw that I used my imagination and didn't give up finding the supplies we needed. Girls saw that I did it for them and together with them and let them to be part of the decision process and design process showing them how much I appreciated also their creativity and it wasn't just about me showing off my crafting skills (or lack of, but you get the point).
But I still have mixed feelings. I do feel like a better mom, but I am entirely exhausted. I started creating a Snow Princess costume this morning at 8AM, which I finished on the afternoon about 20 minutes before the parade started, rushed taking a shower and getting myself ready and took kids to the parade and after coming home started cooking a big pot roast with roasted vegetables and then writing this post. It's been 10 hours of non-stop mothering and I am entirely beat. What a wonderful day, but I can't wait for Monday and go to work because I am not as tough boss for myself in any other job in the world than in my job of being a mother.
Makes me think – why I only feel like a good mother on the weekends/days like this when I entirely throw myself to motherhood and when I am physically exhausted because I gave it all that I could? I think this Halloween is throwing tricks on me, because I most certainly am and want to feel like a good mom even when I am not completely exhausted. In fact my kids see my awesomeness in everyday things, shouldn't I as well?
You already saw pictures and the DIY tutorial to make Isabella's Spiderweb Witch costume, and here is a picture of Gabriella's Snow Princess costume. I created it from a flannel sheet with a snowflake print. I probably would have done a little more to it, but I just ran out of time.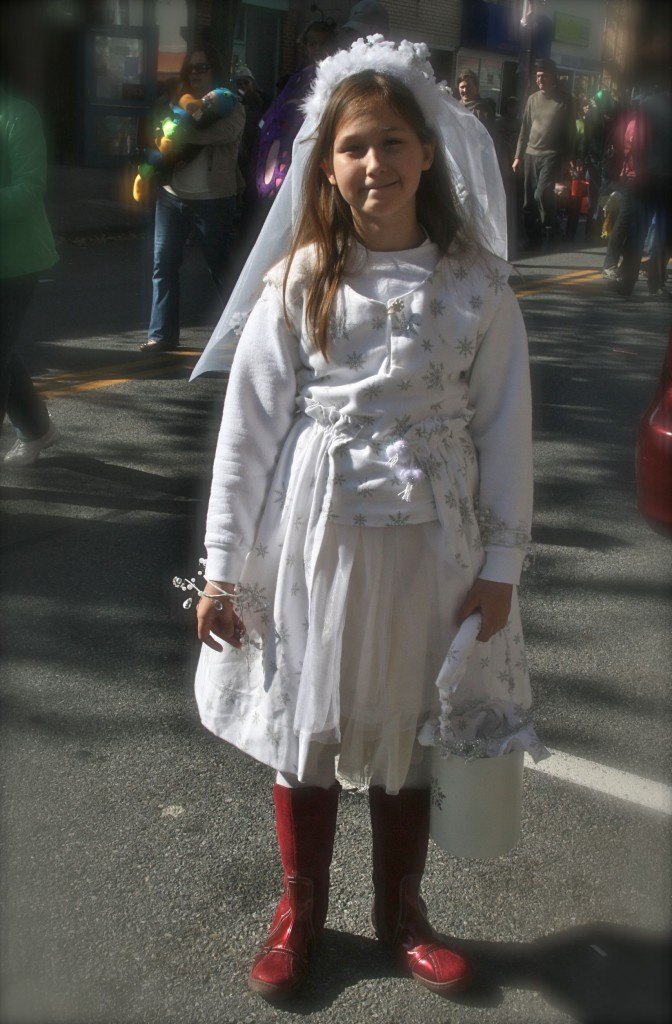 Luckily one of the kiddos was easy… Kristian wanted to be Michael Jackson and was pretty low-maintenance!
Here is the entire gang..
Happy Halloween to all of you and especially for all of those hard-working moms who make the magic happen.