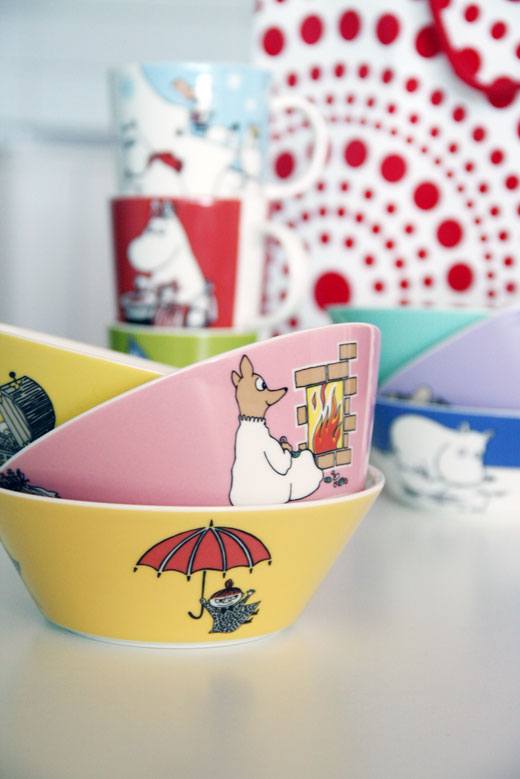 We went to Finland this past weekend, and already on the cruise ship from Sweden to Finland kids saw the Moomin dishes by Finnish Arabia at the gift shop. We already had a few Moomin mugs and bowls, but since everything is in moving boxes due our move to Sweden, and we live in a hotel suite with a small kitchenette, we were happy to buy a few colorful bowls and coffee mugs to brighten a day.
The Moomin dishes are collectible and very high quality. The characters are from beloved Finnish Moomin books by Tove Jansson
, and loved by children and adults alike. When we were packing for the move and we had to sell 75% of everything we owned, my sister from Finland emailed just to remind us not to get rid of any old Moomin mugs – some of them sell for over 100 bucks on auction sites. No worries sis, the Moomin mugs and other Arabia dishes were among the only dishes we packed. Well, and of course my Starbucks coffee mug collection from different cities and states, but that's another story.
My own favorite Moomin mug is this one from 2011 – with Pikku Myy skiing and the rest of the gang making a snowman and building a ski jump slope.
Kids loved picking different colored bowls with their favorite characters.
You can find Moomin mugs easily online, for example Scandinavian Design Center sells them, and currently many of the Arabia Moomin mugs and bowls are also on sale, mugs $21.06/each ($23.41 normal price) and bowls $29.99 ($32.82). Unfortunately they were not cheaper even at the Iittala Factory Store in Finland. The price does tell about the quality though – these mugs and bowls last for centuries in everyday use.