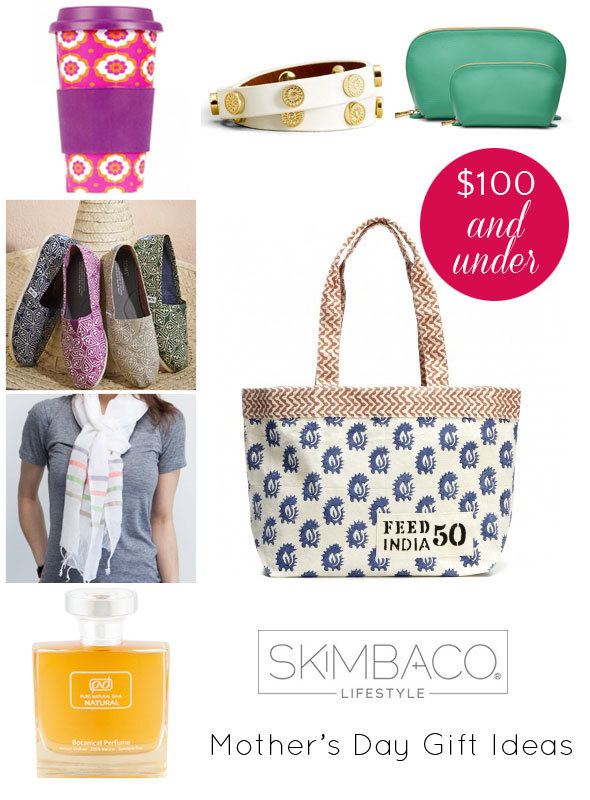 Gifts that give twice
Mother's Day this year is on May 12th in many countries, including USA. This year I collected 7 gift caring ideas that give twice. Many of these products support a charity, are made from recycled materials or are made with all natural ingredients. Great gift ideas for granola and fashionista moms alike!
1. Jonathan Adler Retro Floral On The Go Coffee Mug ($14)
The Jonathan Adler porcelain coffee mug with a coordinating silicone sleeve and lid isn't just any pretty new coffee to-go-mug when you purchase it from Gifts that Give. $2.80 of the price goes to any cause of your choice, easily with a click of a button. Perfect for the soccer mom-on-the-go!
2. Patent Foundation Double Wrap Logo Stud Bracelet by Tory Burch ($95)
Patent Foundation Double Wrap Logo Stud Bracelet by Tory Burch is gorgeous and perfect for the trendy fashionista mom. All profits from the purchase of this item benefit the Tory Burch Foundation, committed to providing economic opportunities to women and their families in the United States
3. Smart Traveler Makeup Bag Set by Cuyana ($85)
Smart Traveler Set by Cuyana comes with two makeup bags, perfectly sized for traveling. The large one for toiletries and the smaller one to fit inside a carry-on or a purse for daily essentials. This set comes in several colors but the trendy emerald green is my favorite. The bags are Handmade in Argentina and Cuyana donates a percentage of profits to charity:water.
4. TOM'S Shoes ($53.95)
The 'Classic – Circle' Slip-On by TOMS shoes comes in cute new prints. And like for years now… With every pair of shoes purchased, TOMS gives a new pair of shoes to a child in need.
5. FEED India Bag in Flame Navy ($75)
This colorful block printed FEED India Bag is handmade by artisans working in India. Each FEED India Bag will provide 50 school meals for children in India, and in ADDITION 15.00 goes to any cause of your choice when you purchase it from Gifts that Give. The do-good bag also looks good and it's perfect summer, for beach days or farmer's market runs.
6. Mereset scarf from fashionABLE ($36)
The soft 100% cotton Mereset scarf from fashionABLE is handmade in Ethiopia and allows women in Ethiopia to have a way of living. This thin scarf is perfect even for summer.
7. Pure Natural Diva Botanicals Perfume ($100)
Pure Natural Diva Botanicals Perfumes are a perfect a gift for an eco savvy mom. Made with natural ingredients and scent from heaven. May we recommend? Try the Natural from the four different varieties. It is fresh and inviting, with notes including a hint of clary sage, exalting pink grapefruit, Moroccan rose, and soothing ylang ylang. Calming yet luxurious, just what mom wants. 1.69 oz bottle $100.