You don't have to be in Europe to get the French Elegance or the English countryside sophistication. This spring Svitlana Flom, the editor-in-chief of artdefete.com, created two beautiful tablescapes with products from Bernardaud and Juliska, and they both bring European flavor for your home. These gorgeous tablescapes are perfect for the Mother's Day – or any other spring celebration.
In case these two dinnerware companies, or Svitlana are not familiar to you yet, let me do a quick introduction. Bernardaud is a fine French porcelain brand, known for their high quality and elegance since 1863. Don't think "old" in a bad way though – this company has brilliantly been able to keep the old world charm and sophistication and bring modern look to their collection, year after year. This is the stuff you should have put on your wedding registry – if you didn't (Svitlana said she did). Juliska, on the other hand, is a home goods brand founded in 2001 as a result of a love story of French girl and an English man whom got married under the Californian sunset. (I am in love with the love story and the Juliska's company story, especially because my own international love story and marriage started the same years as they do in this story…) Juliska's glassware, dinnerware and table accessories bring the global feel for American homes.
Svitlana Flom of Art de Fête brings her global touch for food, entertaining and home decor. Svitlana is orginally from Ukraine, now in the US, and she is the master of creating beautiful spaces, elegant soirees and delicious food that you will eat up also with your eyes. Think of Martha, but instead of East Coast style, Svitlana brings global flair to everything she does, just like we want it.
French Elegance
This tablescape reminds me instantly of Maison Ladurée tea room in Paris, and their pastel colored macaron boxes with the golden elegant text printed on them and the delicate – and delicious – macarons inside! Even if your day didn't include shopping at Champs-Élysées, you can decorate your dinner table to remind you of the time you did.
The foundation is created by softest linen light purple tablecloth to accentuate the colors on the Bernardaud's plates. While the look is classic, it also oozes modern sophistication by layering the different Bernardaud collections. The layering also brings certain playfulness to the table setting.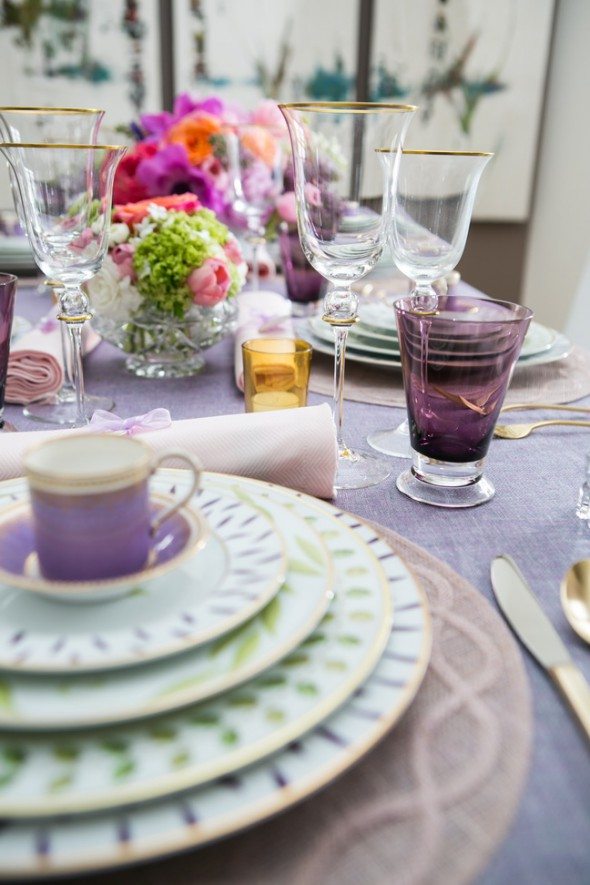 I personally love how the elegant hand-cut crystal glasses are matched with the amethyst-colored water glasses, again giving it old world charm, but with a little springtime playfulness.
Fresh cut flowers crown the table, and bring fantastic scent for the room. Anemone, Lilacs, peonies, tulips and roses in a soup tureen, and in smaller mix-matched vessels give the final touch for this elegant French-style tablescape.
And don't forget to add macarons for the French flair! For New Yorkers, check out the Maison Ladurée in SoHo, which opened a few months ago.
For full shopping list of the products for this tablescape, see Art de Fête
English Countryside Sophistication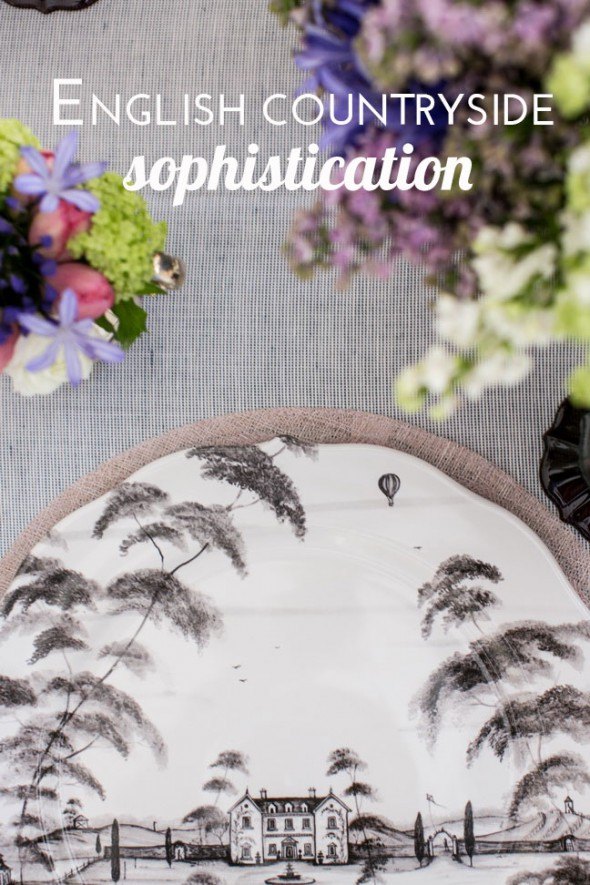 The other spring tablescape is inspired by English countryside, and Juliska's Country Estate dinnerware collection takes the center stage. The simple grey table linen creates a subtle canvas for the layered dinnerware.
Again, I love the mix of of traditional plates with the colored glassware. And as the sophisticated cherry on the top, Svitlana used her antique silver plated 4-piece tea and coffee set for the flowers. This look could be easily achieved combining some flea market finds, as Svitlana also suggests. Or better yet – with your heirloom glassware or silverware.
Speaking of silverware – Svitlana used Juliska's Villandry Collection stainless steel silverware in this table setting, and it's a great finishing touch, and much easier to take care of than the heirloom silver (mine has been unused for years for the laziness of shining it). This tablescape has the same kind of playfulness as the first one.
English are famous for their gardens, as you could read in our latest magazine issue, and this table setting wouldn't be the same with flowers that look that they are directly from the garden. If you are lucky – they are. The lilacs remind me of my grandmother's garden in Finland, and I remember having afternoon tea set outside with German porcelain tea set and my grandmother would cut a few fresh lilac stems out of the tree and place them in a tea cup or a second tea pot, exactly like Svitlana did. To me this table setting feels very nostalgic and homey – and this is exactly what Svitlana was going after.
Svitlana says about the lilacs:
These quintessentially spring flowers with their fragrantly sweet smell bring something so sentimental and familiar to me and my mother-in-law because they are so prevalent in Russia and Ukraine and have a strong association with fun events and positive memories.
I hope you will make many happy memories this spring as you gather around your dinner table with your friends and family!
For full shopping list of the products for this tablescape, see Art de Fête.
Photos by Gary Flom, used with permission.
My mission is to inspire you to live life to the fullest and find your own "skimbaco," how you enjoy life where ever you are in the moment. For ideas for travel, home, food and fashion, subscribe to weekly Skimbaco Lifestyle feed on Mondays and I hope you get my newsletter that I send out sometimes on Fridays.