I'm really looking forward decorating our new home. It is a rental apartment, so I can not go too wild, it is limited what I can do. Our budget to decorate is minimal, so it won't be by any means perfect, but I'm excited nevertheless.
So here is my initial design board for our black and white apartment living room. I've liked the IKEA Stockholm rug since it came out last year, and now I finally bought it, and a lot of the other stuff… from IKEA too. It fits our budget, and I like the look. We already have two pieces of white furniture from Pottery Barn and from Martha Stewart's line for Bernhardt, and they are quite not the modern style I'm going for, but I am going to make it work.
BLACK & WHITE SIMPLICITY
Go careful with black furniture if your space is small, then it might draw too much attention. Our two story high living room with vaulted ceiling is pained in tinted white – I am hoping the black bookshelf and the black leather couch will balance the empty whiteness we have right now.
ACCESSORIZE WITH COLOR
One of the benefits of having a black and white room is that it's easy to bring in other color.
When you have black and white "bones" in your room, bring in the "meat" with color! It's easy to be trendy with this room design, just change the decorative pillows, maybe the add a new picture on the wall, and change the decorative pieces on the fireplace mantel or the bookshelf. All you really need is one item that really pops in the color and bonus is if you can think of something that you can paint or upholster, so you can easily to change the look, and you are not stuff with it when you want some change.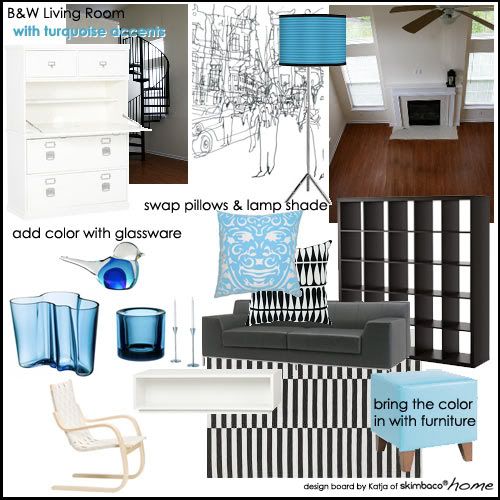 PS. I showed this post to my husband and said I was going to do this to our living room. He asked.. "you?" Because he has been amazing this move and putting everything together and moving furniture and so on. I answered "well, I'm just going to manage it". I guess this is a good point to note, that home decorating does take some muscle and it is nice to have a helping hand when you are doing it!
SHOPPING GUIDE FOR THE PRODUCTS:
Bedford Secretary hutch ($499) from Pottery Barn, together with Bedford Lateral File Cabinet ($499)
Kramfors Couch in black leather ($899) from IKEA, the Stockholm rug ($299) is also from IKEA.
Marimekko Hetkiä fabric ($135) from Always Mod.
Jonathan Adler Meurice Polished Nickel Floor Lamp ($415) is available with matching table lamp at Euro Style Lighting.
Lucia Candle Holders by Asplund ($185) are from Scandinavian Grace.
Blanco Coffee table ($499) from Crate and Barrel.
The chair is Alvar Aalto's pension chair.
BLUE ACCENTS:
notNeutral Triton pillow ($72) from Clever Tomato.
Aalto vase (from $48, depending on the size) from Aalto.com.
Aqua Stripe Opaque Giclee Shade ($59) from Lamps Plus.
Glass bird ($10) Pier 1.
Turquoise small ottoman ($99) from Rooms to Go Kids.